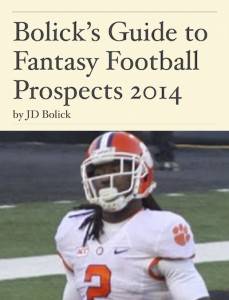 I just published (I hope) the Kindle edition of Bolick's Guide to Fantasy Football Prospects 2014, JD Bolick's survey of this year's NFL rookies crop, handicapped for fantasy football players. That means it's all Quarterbacks, Running Backs, Wide Receivers and Tight Ends.
I say "I hope" because the Kindle edition is still in review at Amazon. Sometime today they should approve it, more than two weeks after I was able to publish the iBooks and PDF editions. There are a few reasons for this, and since handy guides to epublishing are all over the internet (and available as eBooks), I thought I would add my two cents.
Publishing for the iPad with iBooks Author is easy.
Author works like a page layout program, and while it doesn't appear to be very flexible, it is dead simple to enter text and graphics and convert them into an eBook. Bolick's Football Guide has photos and stats tables. These were easy to enter and look on the page the way they're supposed to, with little fussing necessary.
It is also easy to save that eBook as a PDF.
Done.
The only issue I had with Author for this project was the process for adding hyperlinks. This book has more than 500 hyperlinks to YouTube clips that illustrate nearly all of Bolick's observations about each of the players covered. The process for creating a link in iBooks author is (assuming the Inspector is open): Copy link to the clipboard, highlight text to be linked, click the checkbox that says Enable Hyperlink, click dropdown and choose Link to Webpage, then paste in the link from the clipboard. This is three clicks too many, and those add up when you're adding hundreds of links.
Publishing words for the Kindle is easy.
The Kindle started out as a reader. Load an eBook and it would let you read it on its screen. You could (and still can) specify the type size and style, and it will reformat the pages based on the user's choices.
When I turned Bolick's Guide to Fantasy Baseball Prospects 2014 into a Kindle book, after laying it out in iBooks Author, I just copied the text into a Word document. Then I saved the Word document as an htm file, and uploaded it to Amazon. It was easy.
That's because creating an eBook with only words that the Kindle can read is very straight forward. You don't have many options. And all of the guides available on the internet (plus Amazon's own Guide) quickly tell you all you need to know. The most complicated thing is making the Table of Contents.
Publishing graphics for the Kindle is something else.
The Kindle is not a single device. There are the epaper black and white readers, and the color Fire ones. There are small screens and larger ones, and each comes with different expectations.
People who write about creating their eBooks, people like me, have their own experiences, and aren't necessarily experts in all the different paths one might take to create a book. I'm no expert, but I offer up the following just in case you're hoping to create a Kindle book with a lot of tables in it.
Amazon discourages you from using tables in your layout to organize different parts of the page. Using tables to create html layouts was a common hack in web page design in the days before css. It was frowned upon, but also sometimes the easiest way to get things to line up the way you wanted.
Using tables to similarly hack page design for the Kindle is a mistake, but Amazon isn't as clear in all places that tables full of tabular information are also not welcome.
In the Guide we use charts like this one, to show a player's statistical history in college.
When I converted the iBook version into a Word document, the tables were converted into html tables via the TABLE tag. They displayed fine in Word and later in Dreamweaver, when I got away from using Word, but were a jumble when I viewed the file in the Kindle Previewer or in Chrome.
I wasted all sorts of time trying to change the settings. I noted that someone, maybe Amazon, said that tables wouldn't display properly in Kindle Previewer, but I still couldn't get them to display in Chrome. I tried to upload my layout full of tables to KDP, the publishing arm of Amazon, and it was rejected. It was only then that I came across a caveat that tables were not supported for the Kindle at all. It was suggested I use jpegs instead.
I spent yesterday making screen grabs of all the stats boxes in the iBook version and replacing the tables in the Kindle version. When I was finished I tried publishing again. Success.