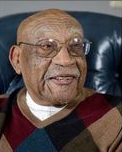 Charlie Sifford was a black golfer at a time when the PGA, the Professional Golfer's Association of America, had in its by-laws a clause that specified that only white golfers could play in PGA tournaments.
This was a long time ago, but it was within my lifetime, and long after the ban was lifted Sifford could not get invited to the Masters tournament, because it was played at a golf club that did not allow people of color to play.
This Joe Posnanski story is about trying to write a column about Sifford and Augusta National in the early 90s(!!!), and having the story spiked (possibly? probably?) because it was critical of the club. Heck, Augusta National didn't allow a black man to play in the Masters until 1990, under what at that point was intense pressure.
Charlie Sifford's autobiography is called, Just Let Me Play: The Story of Charlie Sifford, the First Black Pga Golfer
, and seems to cost more than $2,000 today. Posnanski's story is a shorter and cheaper way to raise some bile and remember just how slowly change comes unless we work at it.