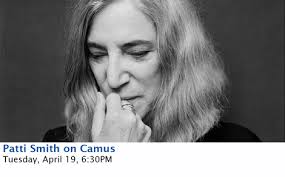 I went to see Patti Smith talk with Kevin Baker about Albert Camus last night at the CUNY Graduate Center, in what they call the Altman Building.
It was an amiable chat about the great French writer's first and last books, both unfinished before he died (The Happy Death and The First Man). Smith read from each and talked some about her love of reading, especially French literature in translation.
The talk ended with Smith telling a story and singing a song.